Are you looking for coaching to focus on yourself and your individual questions? You want to develop further, but don't yet know exactly which direction to take? Your previous recipes for success no longer work? Are you facing new challenges or an important decision? Do you want to change your behaviour and still remain authentic? Then you've come to the right place.
"A spirit that has been expanded by new experiences never shrinks back to its old greatness." – Oliver Wendell Holmes
The coaching and sparring sessions enable you and your managers to change perspectives in order to discover new options for action for yourself.
With our coaches, we offer you and your executives nationwide experienced dialogue partners, especially when it comes to very personal questions.
With the appropriate intensity of coaching or sparring, we will work with you to achieve effective and sustainable results very quickly.
By clarifying roles and reflecting on attitudes, beliefs and internalised behaviour patterns, you and your managers not only become more efficient, but also expand your behavioural repertoire, discover new possibilities and specifically reduce stress.
Executive coaching deals with important decisions, comprehensive topics and central life issues, in which we support top managers and serve as sparring partners. Thanks to our comprehensive change experience, we are also in a position to accompany corporate leaders safely and effectively through complex change processes through accompanying coaching. Our sparring partners come from the industry and reflect with you very business-oriented your questions.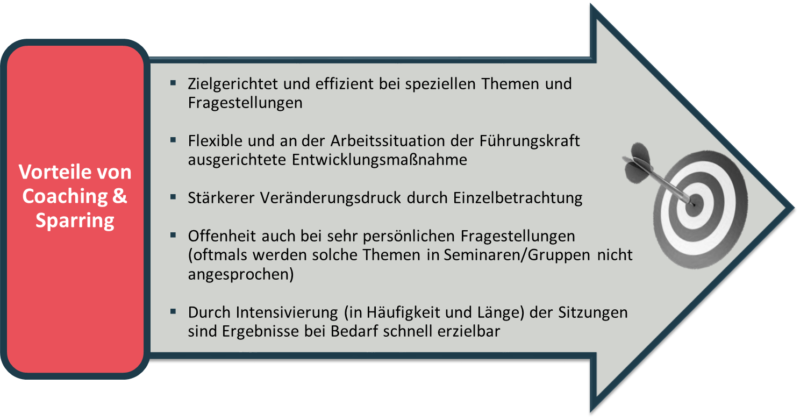 Among other things, we use the following methods and instruments in coaching settings:
Neurolinguistic Programming (NLP)
System, family and organizational constellations
Various elements, e.g. from behavioural therapy, conversation therapy, systemic therapy, cognitive therapy, Gestalt therapy, psychodrama, etc.
ThetaHealing®, mental techniques
Various personality tests and inventories: Team Management System (TMS), W.E.R.T. Model®, MSA (Motive Structure Analysis), M.B.T.I., Jungian Personality Profile (JPP), Career Anchor, Bochum Inventory (BIP), Insights Discovery, Strength Finder and others
Outdoor nature coaching
Shadowing "on the job"
video feedback
Best Case – Worst Case – Scenarios
Sociograms, stakeholder analyses
role plays
journaling
Here is an excerpt of our reference projects:
New executive – Technical services sector –
A new HR department management meets a very traditional and less customer-oriented HR department. Development of a procedure for the implementation of a transparent performance culture. Sparring & coaching over 6 months with shares of self-reflection for personal development and leadership competence of the division management.
CEO – Retail Company –
In a very volatile market with extreme cost pressure and high responsibility in the top management role, the entire life planning gets out of its way as a private stroke of fate happens. The goal here is crisis management. Coaching stabilises, prioritises and locates the individual throughout the entire life cycle. With personal mental techniques the coachee comes step by step from the reactive mode back into an acting one.
Leadership in a complex and conflict-laden environment – Pharmaceutical industry –
Clarification of the assignment with the direct superior, HR and the coachee. Definition of objectives of the coaching and anchoring of feedback loops with the direct superiors in the process. Development of a personal "map of all global contacts" and development of individual communication strategies for these very different people. In this way, some historically evolved lines of conflict have been resolved and the role of the leader and his or her area has changed very positively.
Expert and top manager – Health sector –
Chief physician of a medical institute of a university hospital in the area of tension between teaching, research, institute management and science management. Coaching focuses on personal self-management in the context of one's own career planning.