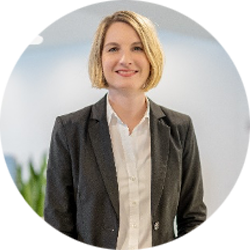 Vanessa Roos
Dipl. International Business / Business and Economics M.Sc.
Coach & Consultant
AS COACH & CONSULTANT I STAND FOR:
Commitment. Courage. Happiness.
Business Experience
Since 2021 Coach and Consultant at Rother's Team
Since 2019 Systemic Business Coach
For more than 10 years employed in several consultancies for sales and marketing strategies (mainly in the automotive sector) as well as process optimization and lean (in the aviation and transportation industry)
Worked and lived 5 years abroad (USA, China, i.a.) and has, thus, profound knowledge of the dynamics in international teams
Education and Qualification
International Business at University of Applied Sciences Mainz, Germany (Diplom-Betriebswirt) and Karlstad Universitetet, Sweden (MSc in Business and Economics)
Systemic Coach (DBVC), Managementforum Wiesbaden, Germany
Science of Happiness at University of California, Berkley, USA
Consulting and Training focus
Training and supervision of change projects
Execution of lean trainings in the areas of continuous improvement, performance management, and 5S
Planning and implementation of transformation
projects
Coaching in the areas of personal development, communication, and happiness at the intersection of working and private life
Trainings on moderation, communication,
stage trainings
About Vanessa Roos:
Born near Stuttgart and raised in Hanover, Vanessa lives in Frankfurt for almost 15 years now, with a short two-year-break in Geneva, Switzerland. After her studies of International Business in Mainz and Karlstad, Sweden she took on her first employment in a consultancy by starting a sales and growth assignment at a German automotive supplier in Japan. For the years to follow Vanessa's career was coined by other marketing and sales projects in the automotive industry.
After four years in consulting Vanessa wanted to get to know the other side and moved on to one of the world's largest industrial service providers. This is where Vanessa got acquainted with lean management ( = continuous improvement, efficacy and efficiency throughout processes), both in theory as well as at sites in various countries.
In order to pair her consulting experience with her lean knowledge after two more years Vanessa returned to consulting, now with the focus of lean management and, thus, process improvement. She realized efficiency gains of up to 15 percent in many of her projects, mainly in the aviation sector, from shopfloors to executive levels.
Throughout her career Vanessa copes with diverse cultures, mindsets and hierarchies. By becoming a systemic coach, she connected her business knowledge with her interests in mental health and stress management. In consulting as well as when coaching people are at the core of Vanessa's work.
Extract of reference costumers
Lufthansa
Continental
Deutsche Bahn