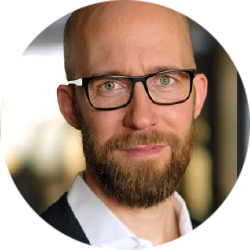 Florian Hugenroth
Jurist
Coach & Consultant
AS COACH & CONSULTANT I STAND FOR:
Balance. Presence. Solutions.
Business experience
| | |
| --- | --- |
| Since 2015: | Coach & Consultant at Algar Rother Coaches & Consultants |
| Since 2015: | Founder/Owner of klementis – sparring/ coaching/consulting of top management |
| Since 2011: | Sr. Projektmanager at consulting firm with focus on strategic development of family businesses |
| 2009-2011: | round-the-world trip with focus on Latin America, India, and Southeast Asia |
| 2005-2009: | various management positions in the retail and e-business unit of an international sporting and lifestyle goods company (GER + USA) |
| 2004-2005: | Jr. Consultant at Rother & Partner |
Education & qualification
Studies of law (University of Göttingen, Universidad de Alcalá de Henares, Bonn University)
Studies of international business (London, Saint-Étienne)
Advanced training in facilitation of innovation processes/ agile methods (Berlin)
Advanced training in coaching (Hamburg, Berlin)
Advanced training in change management (Vienna, AT)
Accreditation & Licensing:
W.E.R.T. ®- Personality Profile
INSIGHTS MDI®
Consulting & training focus
Executive sparring & coaching
Strategic consulting
Organization development
Business transformation
About Florian Hugenroth:
Motivated by a great thirst for knowledge, Florian's greatest strength lies in the holistic questioning of systems, processes and situational circumstances. In doing so, he does not stop at the problems themselves, but is rather motivated to find reflective, well thought-out but at the same time pragmatic solutions to the challenges. Theoretical approaches make sense to him as long as they are useful for a practical solution that can be implemented in reality.
Since interventions usually do not only bring about selective changes, he is always interested in the entire system. For this reason, he sought to deepen his knowledge of systemic organizational development as early as his final thesis. After graduation, he was able to apply and test the basics he had learned in the fast-moving sporting goods industry directly in practice at a DAX-listed company and add methods that worked.
In his role as a cross-divisional, strategic project manager, he not only drove various restructuring processes forward, but was also responsible for the operational anchoring of changes. In a very short time, this also brought him operational management responsibility in a cross-sectional function. Especially in the introduction of company-wide best practices, he was able to ensure a successful implementation with the involvement of all relevant stakeholders.
During a subsequent almost two-year trip around the world, Florian intensively learned to appreciate the importance of intuition and the intercultural and interpersonal dynamics for and on decision-making processes. Since then, these experiences have completed his skill set in holistic solution finding.
Florian's distinctive ability to holistically grasp organizational reality in transformation processes through factual analysis and a fine, empathic sense, in order to design and accompany intuitive, pragmatic solutions on this basis, has also allowed him to quickly gain a foothold in the consulting environment.
Since then, he has supported shareholders, board members, management and executives in creating custom-fit visions of the future for their organizations and effectively implementing them through suitable strategies.
Florian distinguishes himself in his work through intensive listening and his ability to grasp things quickly, which enables him to put together all the relevant points into an overall picture and to reflect on them constructively and critically. Due to his distinctive trustworthiness, he succeeds in involving his clients from the very beginning and ultimately making them the real drivers of their transformation.
Extract of reference constumers